CODEPINK
From Observatory
whitelistUser:WikiVisor
CODEPINK
CODEPINK is a women-led grassroots organization working to end U.S. wars and militarism, support peace and human rights initiatives, and redirect our tax dollars into healthcare, education, green jobs and other life-affirming programs.
Latest from this source
Join us in practicing "21 Days of Divesting From the War Economy" to explore where the war economy might not be serving your life, and share ways that we can all reinvest our time, heart and energy to create conditions conducive to life.
Understanding the Local Peace Economy and how to divest from the war economy that is destroying life and well-being on this planet.
Mission
CODEPINK is a women-led grassroots organization working to end U.S. wars and militarism, support peace and human rights initiatives, and redirect our tax dollars into healthcare, education, green jobs and other life-affirming programs.
Approach
Founded in fall 2002 as a grassroots effort to prevent the US war on Iraq, we continue to organize for justice for Iraqis, to hold war criminals accountable, and to end and prevent other U.S. wars and regime change efforts. We actively oppose U.S. sanctions on Iran, Venezuela, N. Korea, Cuba, and more, the continuing U.S. war in Afghanistan, torture, the detention center at Guantanamo, weaponized and spy drones, and the prosecution of whistle-blowers. We support Palestinian rights, diplomacy, and growing local peace economies. Our flagship campaign is Divest from the War Machine to divest from companies that derive their profits from U.S. military interventions, the global arms trade, and the militarization of our streets.
Rooted in a network of local organizers, online supporters and generous donors, with an emphasis on joy and humor, our tactics include satire, street theatre, creative visuals, civil resistance, and directly challenging powerful decision-makers in government and corporations. And of course, wearing pink!
CODEPINK is not exclusively women — we invite non-binary, gender-non-conforming people, and men to join us.
History
Medea Benjamin, Jodie Evans, Diane Wilson, Starhawk and about 100 other women kicked off CODEPINK on November 17, 2002. We set up for a 4-month all-day vigil in front of the White House during the cold of winter to protest the U.S. led war on Iraq.
The vigil inspired people from all walks of life, and from all over the country, to stand for peace. Many organizations joined us, including Global Exchange, Greenpeace, WILPF, WAND, Public Citizen, NOW, Women for Women International and Neighbors for Peace and Justice. The vigil culminated on March 8, International Women's Day, when we celebrated women as global peacemakers with a week of activities, rallies and a march to encircle the White House in pink.
Over 10,000 people participated, and a group of 25 women, including Alice Walker, Maxine Hong Kingston, Susan Griffin, Starhawk, Jodie Evans and Medea Benjamin, were arrested for taking our peaceful protest right up to the White House gate.
CODEPINK thus emerged out of a deep desire by a group of American women to stop the United States from invading Iraq. The name CODEPINK plays on the former Bush Administration's color-coded homeland security alerts — yellow, orange, red — that signaled terrorist threats. While Bush's color-coded alerts were based on fear and were used to justify violence, the CODEPINK alert is a feisty call for people to "wage peace."
Since then, CODEPINK has become a worldwide network of people committed to working for peace and social justice. We have become famous for confronting the warmongers, in the halls and hearing rooms of Congress, the national conventions of both the Republicans and Democrats, political fundraisers, and in the streets.
Statement of Nonviolence
CODEPINK is grounded in the understanding of the power of love and maintains a commitment to nonviolence in all of our actions. We understand that any violation of this commitment to nonviolence—no matter how small—may seriously damage our movement.
We define nonviolence to include the following elements:
We will use no violence, verbal or physical, toward any person.
We will maintain an attitude of openness and respect toward all people we encounter in our actions.
We will not destroy any property.
We will carry no weapons.
We will exercise personal and collective responsibility to ensure all participants adhere to these commitments.
Associated Authors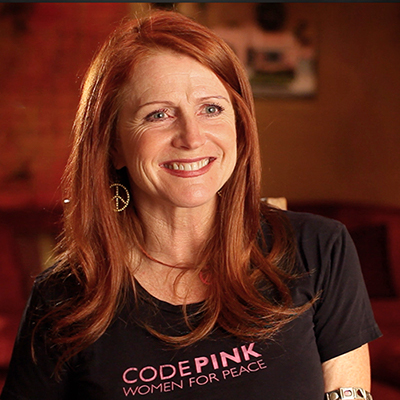 Jodie Evans is the co-founder of
CODEPINK
and has been a peace, environmental, women's rights, and social justice activist for over 50 years.
Videos by this organization
CODEPINK hosts their webinar series, short films, live streams and other video content on their YouTube channel.
CODEPINK is all about taking action where it truly matters. We channel community grassroots democracy to where the power players are making (awful) decisions and make them listen. Wherever there is injustice, we'll be there to highlight in bold PINK.
This is CODEPINK's Twitter.
Events with this organization